[mp_row] [mp_span col="6"]
Here is the list of all Activities 23 Jump Street
[/mp_span] [mp_span col="6"] [mp_row] [mp_span col="6"]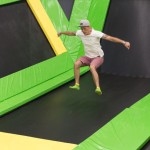 Open Jump
Visit 23 Jump Street and get a taste of what we have to offer. Test your free style jump skills, learned to jump against angled sides an jump from trampoline to another.


Come try your skills at all the different activities at our Jump Park and Entertainment center.
[/ROW]
Dodgeball
This may be the most awesome sport and fun there is. Play with friends or even strangers, compete in tournaments, or play individual free for all!
Foam Pit Area
Flip or fly from a trampoline in a freestyle jump into thousands of foam cubes. Try out new jump and flip techniques without fear. It's the safest way to fly.
Basketball Dunking
There's nothing like dunking a basketball but forget the court! Launch yourself in the air with ease and slam like a pro.
[/mp_span] [/mp_row]